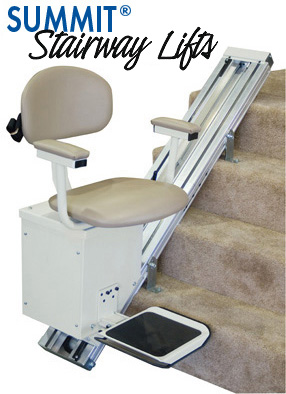 The Summit stair lift is very affordable in comparison to other stair lifts on the market.  It is also very easy to install, maintain, and is very durable.
It is recommended that you have a professional do the installation.  Call us at Better Homes for a quote.  We can be reached at 518-708-4433 or visit our website at Better Homes.
Advantages of the Summit stair lift:
Chassis & Drive Train
1. No oil / vent plug in gear – the gearbox is sealed and is filled with grease instead of traditional gear oil. This means no chance of leaking or spillage. The gear is one of the largest in the stairway lift market today. The aluminum casting used in its design allows for lighter weight to go with its maximum performance.
2. Drive system – a belt is used between the motor and gear instead of a direct connection as manufacturers were unable to guarantee the elimination of key noise between a coupled drive system. It also simplifies serviceability.
3. Motor – Through the design of a dual capacitor system, the instant reversing motor (1/3 hp, 110vac) uses only 3 wires and runs at 6 amps at full load. This allows installation in the home without need for a dedicated outlet.
4. Aircraft cable – using 3/16" dia. Cable instead of traditional 1/8" dia. Cable allows for a breaking strength of 4200 lbs. vs. 2000 lbs. The cable wraps on an aluminum cast drum, grooved for each wrap. This eliminates noise and problems caused by stack winding issues. The cable system is direct drive – meaning there are no pulleys and the cable does not move.